---
The Oracle Arena and O.Co Coliseum were is the home of the Golden State Warriors and is also used for Concerts, Ice Shows, the Circus, Bull Riding as well as Corporate and special events. The O.co Coliseum is home to the Oakland A's and the Oakland Raiders. We are the last remaining Stadium that hosts both MLB and NFL teams. We are the Crew that makes this possible. AEG is the managing company for this building and our Employer.
---
---
House Steward; Mike Scanlon scanlon61@yahoo.com
Parking: For Non-Event days we usually park in "HH" Lot for Arena calls and in "K" Lot for Stadium calls. For Event Days in the Arena we usually park in "D" Lot, close to the North Tunnel. For Raider games (working the game) we need to enter through Baldwin Gate and park in "GG" Lot, if you are on the Conversion Call (to Baseball) park in B Lot near the RVs and muster by the K Lot Breezeway. Ask your lead where you should be parking for the day. Let the Gate Security or Parking attendant know that you are a 107 Stagehand and Show your Badge!
Checking In:We are allowed to "Swipe In" up to a half hour before our scheduled time (ie. 8am for an 8:30am call). The time clocks are located in the South End hallway by "E" Lot. At end of shift check with your lead(s) to make sure you are released and remember to Swipe out. If the time-clock tells you that you are not scheduled see your Lead, Mike Scanlon or Steve Martin.
Chain of Command: Ryan Snider is the Director of Operations, Steve Martin is the Production Manager and there are about 4 AEG Event Representatives who alternate in charge of Event Operations. Mike Scanlon is the IA House Steward. There are 6 Full Time Leads; Jose Gonzalez, Rick Laue, April Kiethlin (out on disability) and Jake Middlemiss, also Andy Finco and Emmett Foley are the Full Time House Techs. In addition there are 4 Part Time Leads; Tommy Harmon, Stacey Williams, John Merchant and Billy Williams. The House Techs handle the operation of the House Sound and House Light Systems and the Magnetometers; Andy Finco, Emmett Foley, Mike Scanlon, Mike Curtis, Bob Paiz, Emily Paulson and Drew Childs. If anyone (AEG, Warriors, A's or Raiders) asks you to do a project (or give them a hand) please check with your lead before jumping in.
Food: Meal Breaks for House Calls are only 30 minutes. There are a few places to eat close by (Fast Food) but it is barely enough time to get there and back, therefore It is a good idea to bring your lunch or a snack. Sometimes our morning break coincides with the arrival of a lunch truck (weekdays). Sometimes our break gets pushed back to coincide with the truck's arrival. There is a fridge and a microwave in the Arena Break Room and the 138. You should take a meal break after 5 hours on the job, it is the LAW!
Dress Code: For regular work calls dress is casual (long pants and steel-toe or composite-toe shoes are reccomended for safety). Keep in mind if you are working outside you may want to dress in layers for hot/cold regulation and you should have a set of rain gear also. For Events (if you are working during the show/game call) you should wear black pants, black shoes and a black shirt (Warriors games require a black polo shirt). For Raiders games you may wear (are encouraged to wear) Raiders gear. For A's games you may wear (are encouraged to wear) A's gear. Avoid wearing other team's gear on game days.
The Job: The nature of what we do, changing over the venue from Concert set-up to a Warrior game or an Ice Show, or the Stadium from baseball to football or Motorsports, is unpredictable. Sometimes we are scheduled for an 8 hour shift and are offered Overtime in the last half hour of the day. Be prepared to stay late, especially on tight turnarounds or before game days. Occasionally we need to work through a break to make a deadline (like on a Plywood call), please be flexible.
Radio Etiquette: We are often required to be on Radios for Events. When Dispatch initiates a call to the stagehands, let the leads answer the call and distribute the work. Once you finish a project or complete a call let your lead know so they can get back to Dispatch and they can clear the docket. Keep the chatter to a minimum and be polite, do not air our problems or swear on the radio!
Where things are: COLISEUM; The Minus 22, the +19, the +55, the +78, Mount Davis, Bart Storage, Raider's Cage, the 138, K-Lot Breezeway, K Lot Lobby, A, B, C, CC, D, DD, KK, LL, MM Gates, BART Plaza, Plaza, West Side Club (Conditioned/Unconditioned), East Side Club, Loge Suites, Club Suites, Plaza Suites, Batting Cage, Press Box, Peralta Room, Weight Rooms, Locker Rooms, Dugouts and the Field! ARENA; the Gentry Room, the Cage, Arena Break Room, Team Rooms, Family Rooms, Catering/Warriors VIP Lounge, AEG offices, Shop 1, Shop 2, Sam Skinner Room, Courtside Club, the Tent, Propane storage, a myriad of VIP rooms. You will eventually discover where most of these rooms are, right about the time they change all the names again.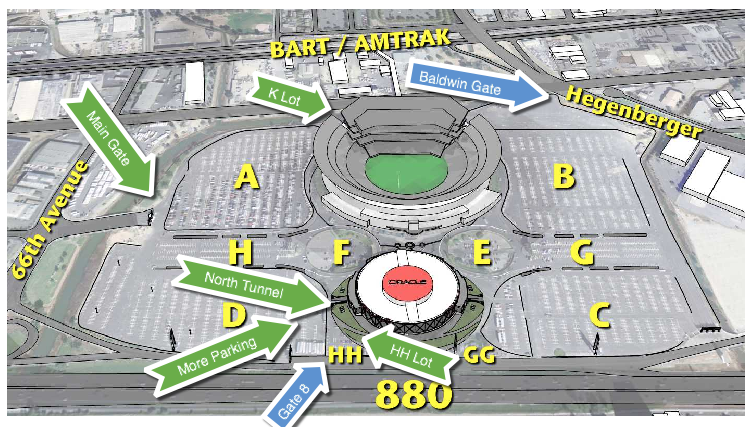 More Information:
TOOL PACKAGE